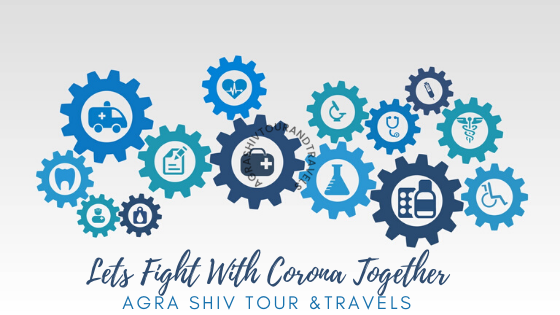 As we all are aware of the fact that Coronavirus hit across the globe and continues to grow then what should we do now. Should we stop our life or keep growing, this is the most important question for our life these days.  Just imagine you have to go on a business trip or going to visit your family then you will definitely want to feel as safe as you do at home, even while traveling to another city. Agra Outstation Taxi Service offers the maximum cleanliness and hygiene, and lets you keep a safe distance from the crowds. We are trying to have 5 layers of safety and the highest standards of hygiene, every ride is sure to keep you well-protected when you travel.
According to our new service, our drivers will be provided with gloves, masks along with cleaning equipment. They will also be given a hand Sanitizer for their own safety and their temperature has been regularly checked. The drivers will also undergo hygiene training to build skills and to ensure they follow best practices. We are ensuring the highest levels of hygiene and service to the rider.
The following advisory guidelines mentioned below are for the safety of our customers.
Wash Your Hands Properly.
You should wash your hands using a hand wash or clean it with the an alcohol-based sanitiser. Washing your hands before and after taking cabs can reduce the risk of getting infected and even rule out any sign of transmission.
Maintain Distance From Your Driver
You should always maintain a distance yourself and a fellow rider or driver. If anyone of rider and driver is sneezing or coughing then maintain a proper distance because droplets spread viruses, hence it is very important to cover your mouth and nose with a mask or tissue. Do not throw used tissue in the car dispose of it properly.
Don't Touch Eyes, Nose & Mouth
Human Touch is one of the most common ways to pick up viruses once contaminated, the virus can transmit to your eyes, nose, and mouth and it can eventually make you sick.
Seek Medical Care If Symptoms Appears
If you are experiencing any symptoms such as fever, tiredness, dry cough, body ache, nasal congestion, runny nose, sore throat or diarrhea should seek immediate health advice.
The health and safety of riders and driver-partners amid COVID-19 is of paramount importance to us. We have undertaken all reasonable efforts to ensure that our drivers comply with applicable health and safety advisories issued by the Government in this regard.
To ensure your safety, we urge you to follow the guidelines and best practices issued by the Government before booking a ride with us. If you feel uncomfortable in the rides at any point, you may cancel the ride at any time. Book Agra Outstation Taxi Service at the best price to have a safe and secure ride.