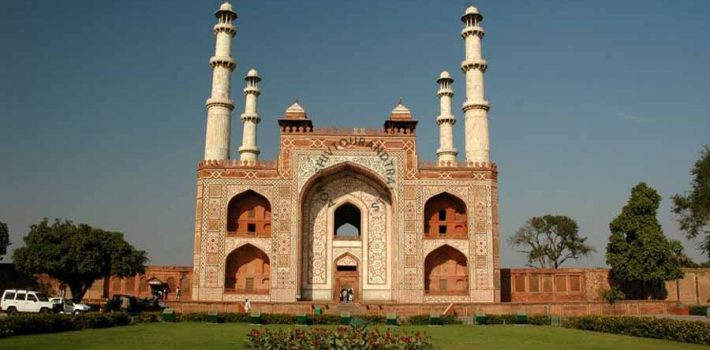 The allure of the Taj Mahal has always attracted millions of tourists every year. But the Taj is not a stand-alone attraction in Agra. Agra has carried the legacy of the Mughal empire with the magnificent fort and a liberal sprinkling of fascinating tombs and mausoleums. Tourists have a lot of fun in the bustling marketplaces.  You can book one way delhi to agra taxi for enjoying the charm of Agra.
No doubt Taj Mahal is an immense mausoleum of white marble. This is one of the most well preserved and architecturally beautiful tombs in the world. While The taj mahal is one of the masterpieces of Indian Muslim architecture and one of the great sites of the world's heritage.
Apart from Taj Mahal, Places to Visit In Agra 
Agra Fort
Agra Fort is quite similar in layout to the Red Fort in Delhi. This is considerably better preserved, as much of Delhi Fort was razed by the British after the Mutiny. Agra Fort t is also constructed mainly from red sandstone.
Sikandra, Akbar's Tomb 
Akbar's Tomb lies here in the center of the large garden. Its construction was started Akbar himself by but completed by his son Jehangir. He modified the original plans which account for the somewhat cluttered architectural lines of the tomb. There are four red sandstone gates that lead to the tomb complex that was dedicated to Muslim, Hindu, Christian and Akbar's patent mixture. 
Itmad-Ud-Daulah's Tomb 
Empress Nur Jehan built Itmad-Ud-Daulah's Tomb, sometimes called the Baby Taj. She constructed it for her father, Ghias-ud-Din Beg who was the Chief Minister of Emperor Jahangir. The garden layout and use of white marble, pietra dura, inlay designs, and latticework presage have many elements of the Taj Mahal.
Mariam's Tomb 
Mariam's Tomb is situated at the West from Akbar's Tomb on Agra-Delhi highway Jahangir. The Tomb was constructed in the memory of his mother Mariam Zamani. The grave is made of white marble but now in a ruined condition and has in its vicinity, a Christian Mission School and a church.
Jama Masjid
This is a  large mosque attributed to Princess Jahanara Begum. Jama masjid is built-in 1648 during the reign of the father Shah Jahan. This mosque is notable for its unusual dome and absence of minarets. Visit all the places by booking one way delhi to agra taxi.
Temples To Visit in AGRA
Balkeshwar Temple:-  The temple is a temple of Lord Shiva, situated at Balkeswar, at the riverside of Yamuna.
Kailash Temple:- The temple is a Lord Shiva Temple, located at Sikandra, at the riverside of Yamuna.
Mankameshwar Temple:- The temple is at Rawatpara, near Agra Fort railway station. 
Taj Mahotsav The Taj Mahotsav is a 10 day festival held in February every year at Shilpgram, near the Tah Mahal.
Things to shop in Agra 
Agra is not only about tourism its also about the major thing that you have to carry with you from Agra. You can buy leather products from Agra. because this city is very famous for its different leather products. You can't leave Agra without purchasing leather products, Marble Replicas, Rugs and Carpets, Jewelry, Embroidery Textiles, Silk Saris Or Textiles, Handicrafts, Metal Wares and  Taj Mahal Souvenirs.
Best Food To try in Agra 
Agra is not only famous for the mesmerizing forts and places. It is also famous for its delicacies too. Agra is acknowledged as one of the best street food serving spots in the country by many connoisseurs. Apart from being populated, yet it witnesses foodies coming from all over the country to quench their insatiable appetite.  The best things to try in Agra is Petha, Paratha, Mughlai, Bhalla, Dalmoth, Tandoori Chicken, Jalebi, Shawarma, Paneer Tikka, and Bedai.There are thousands of reasons to visit this city and enjoy the charm of Agra. You can book one way delhi to agra taxi for visiting this city. Agra is attracting millions of people every year. Give a visit to Agra enjoy the charm of this city.