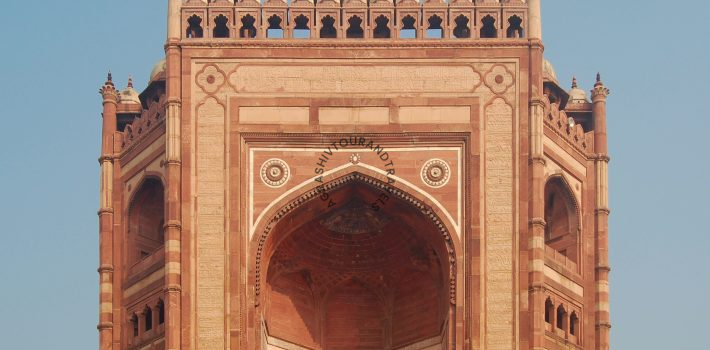 Fatehpur Sikri is a city that is made of red sandstone. It was founded in the 16th century by Mughal Emperor Akbar. The fortified city had been the capital of his Empire for fifteen years. If you want to see a great example of Mughal architecture then Fatehpur Sikri is one of them. Fatehpur Sikri comprises Jodha Bai's palace, Jama Mosque, Buland Darwaza, and a Tomb of Salim Chisti among many other famous monuments. This is an integral part of the Indian heritage. Fatehpur Sikri is now a UNESCO world heritage site and a famous tourist attraction. You can book Delhi to Agra cab for visiting this beautiful city.
Architecture Of Fatehpur Sikri 
This city is a unique blend of architectural excellence, as well as religious beliefs – sums up Fatehpur Sikri. It was built by Akbar to honor Sheikh Salim Chisti.  There are a number of palaces, mosques, monuments, public buildings, and other structures that adorn the city, each of which displays exemplary architectural beauty.  Akbar built three palaces for each of his three favorite wives within the city. There are eight gates (Delhi Gate, the Agra Gate, the Lal Gate, The Gwalior Gate, and the Ajmeri Gate and many more.
If you will get to visit the architecture of structures like the Buland Darwaza, the Tomb of Salim Chisti and the Panch Mahal attracts tourists from all over the country and beyond.
Things to Visit At Fatehpur Sikri
Fatehpur Sikri is a perfect trip from Agra, as this is not so far away from Agra. It encloses various attractions within its walled premises. There are some major things to see in Fatehpur Sikri such as Buland Darwaza, Jama Masjid ( A congregational mosque), Tomb of Salim Chishti, Diwan-i-Aam or Hall of Public Audience, Diwan-i-Khas, Ibadat Khana, Anup Talao, Panch Mahal, Akbar's residence, Hujra-i-Anup Talao, Jodhabai's Palace, Naubat Khana, Birbal's House, Hiran Minar, Karkhana, Khazana and Pachisi Court.
Interesting Facts About Fatehpur Sikri
Fatehpur Sikri is the first planned city in India by the Mughals that was founded in the 16th century by Mughal Emperor Akbar.
According to English Traveler in 16th Century, Ralph Fitch, This city is much larger and more populous than London at that time.
The structure and layout of the construction of Shahjahanabad or Old Delhi were influenced by Fatehpur Sikri.
Jahangir used to stay at Fatehpur Sikri for three months in 1619 when the region was reeling under the impact of bubonic plague.
Fatehpur Sikri is consisting of India's rich cultural and architectural heritage. If you are interested in exploring more such historical places, you can book Delhi to Agra cab for visiting this wonderful place. This city belongs to the Mughal era and a top tourist attraction in Agra. It is one of the UNESCO World Heritage Site in 1986 due to its architectural beauty and historical relevance. The site is maintained by the Archaeological Survey of India.