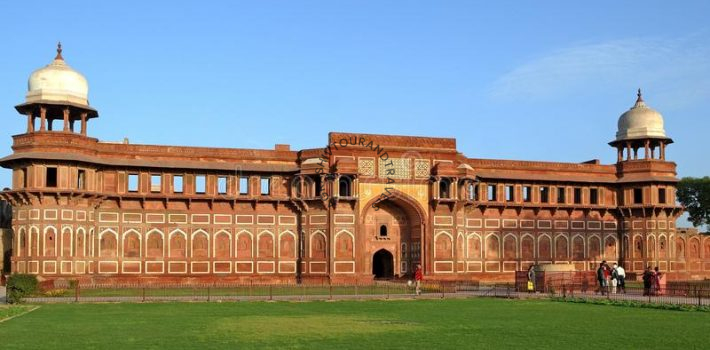 The Agra Fort is one of the most attractive monuments built in India during the reign of the Mughals. The Fort is built in 94-acre and situated in the city of Agra along the banks of the Yamuna. This is a place where if you are planning a trip to Agra then make sure to visit Agra fort. Also, If you are visiting Delhi before Agra Then Book Delhi to Agra taxi in a location that gives you easy access to the Agra Fort, Taj Mahal, and other attractions in the city. Today, the Agra Fort is a popular tourist destination in Agra after the Taj Mahal. It was given the status of UNESCO World Heritage Site. For Visiting Agra Fort, You can purchase entry tickets to the fort at the Amar Singh Gate.
The Architecture of Agra Fort
Agra Fort is designed by Mughal style with red sandstone. Forts seem like the shape of a semicircle and are enclosed by massive double battlemented walls made of red sandstone. There are splendid rooms, magnificent mosques, and beautiful halls located inside the Agra Fort. The fort includes public and private halls called Diwan-i-Am and Diwan-i-Khas. There are royal pavilions that house masjids, royal baths, a mirror palace, and courtrooms.
Things to Visit At Agra Fort
There are several palaces, halls, and other monuments that are built at different points of time in history.  Please have a look at these places at Agra Fort. These places are Jahangir Mahal (The red sandstone palace), Bengali Mahal, Khas Mahal (A white palace), Anguri Bagh or the Garden of Grapes, Akbari Mahal, Sheesh Mahal,
Babur's Baoli, Shahjahani Mahal, Macchi Bhavan, Ghaznin Gate, Diwan-i-Khas, Diwan-i-Am, Moti Masjid aka the Pearl Masjid & Mina Masjid.
Important Information About Agra Fort
State
Uttarpradesh
Timings
Sunrise to Sunset ( 7 days A week)
Entry
Amar Singh Gate
Entry Fee
₹ 40 (Indians)

₹ 650 (foreigners)

There is no entry fee for kids below the age of 15 years

 Cameras
Allowed
Commissioned by
Emperor Akbar
Architectural Style
Mughal style
Attraction
Agra Fort Light and Sound Show
Area
94 acres
Year of Establishment
1573
Material Used
Red Stone & Marble
Heritage sites
UNESCO World Heritage Site
Interesting Facts About Agra Fort
Agra fort is made of red sandstone because Akbar had a fantasy for red walls and architectures made of sandstone that's why he brought some 4000 plus premium sandstone from the quarries spread across northern India to build the fort.
Agra Fort is a classic example of the lavish lifestyle of the Mughal kings. The Sheesh Mahal is made of Belgian glass that shows the vital importance of the recreational activity of the Mughal kings.
When Shah Jahan decided to move from Agra to Delhi in 1638, he decided to build the Red Fort taking inspiration from Agra Fort.
Agra Fort had won the Aga Khan Award for Architecture, and to commemorate the win. There was a special stamp was issued by India Post.
This Fort features in The Sign of the Four, a Sherlock Holmes mystery novel that was written by Sir Arthur Conan Doyle.
Agra Fort was styled with gold and ruby plated walls, gems embedded on them. All the luxurious and lavish Mughal decorations was dismantled and looted by the Britishers.
The beauty of Agra Fort has been overshadowed by TajMahel but in my opinion, has its own charm. This residence of the Mughals has a major attraction to travelers. Explore the Agra Fort and enjoy the history that is etched here in stone?.  Book Delhi to Agra taxi to enjoy the beautiful Fort and other major attractions in Agra.