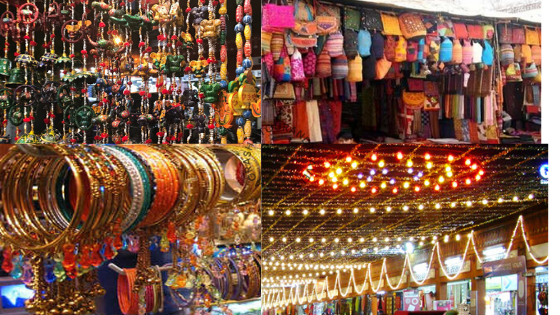 Jaipur, also known as the Pink City, is the 10th most populous city in India. This is one of the top-visited tourist places near Delhi. Along with Delhi and Agra, Jaipur forms the Golden Triangle, one of the most popular places to visit in India and one among the renowned tourist places in Rajasthan. This city attracts numerous visitors from all over the world due to its rich heritage and culture. There are so many important monuments like Amber Fort, Sheesh Mahal, Ganesh Pol, Hawa Mahal, Jal Mahal, Nahargarh Fort. You can book outstation taxi in Agra for so many adventure activities like paragliding, hot air ballooning, rock climbing, camel riding, and others can also be done here.
Johari Bazaar
Jaipur is one of the biggest gemstones and jewelry producing city. You can find a variety of designs in numerous stones here easily. Johari Bazaar offers some dazzling jewelry with precious and semi-precious gems and handmade necklaces at affordable prices. This is one of the earliest shopping places in Jaipur where you can buy all this stuff.
Tripolia Bazaar
Tripolia Bazaar is known for lac jewelry and a variety of bangles. While it is also famous for textiles like Bandini and other dye fabrics embroidered. You can get a good deal here at a reasonable price. But you need to learn to bargain before going shopping.
Chandpole Bazaar
Chandpole Bazaar is one of the traditional shopping markets in Jaipur. This is a place where creativity comes alive. You will come across handicrafts, carvings made out of marble and other hand-looms. You can get the traditional and flamboyant shoes, pretty handicrafts, perfect sculptures made of wood and stones, carpets, turbans or many more from this market.
Kishanpole Bazaar
Kishanpole Bazaar of Jaipur is famous for buying Textiles at the best price. This is one of the best places to go for street shopping in Jaipur. Kishanpole Bazaar is famous for its wooden carving. You can buy wonderful wooden sculptures and souvenirs from the place as a gift for family and friends.
Bapu Bazaar
Bapu Bazaar is known for its leather products and Mojari shoes. These are famous Rajasthani footwear which is made from camel leather. You can also buy textiles, handicrafts, perfumes, lehengas, saris, sandstone, etc. If you are visiting Bapu Bazar then you can easily bargain and buy Rajasthani souvenirs in a good deal. This is one of the most famous markets in Jaipur which serves the all-in-one variety of items to shop.
Nehru Bazaar
Nehru Bazaar is famous for Rajasthani Juttis, ready-made garments, and blue pottery items. When it comes to the prices of the garments then they are quite moderate. Nehru bazaar has some shops that offer household items, bags, gifts, and footwear.
Sireh Deori Bazaar
Sireh Deori Bazaar is located right beside the Hawa Mahal and famous for its special Jaipuri quilts, leather shoes, yummy delicious snacks, colorful textiles, and puppets. Deori bazaar is spread across the western gate of the city walls and continues to the eastern city gate. One can spend an enjoyable time with your family and friends.
Mirza Ismail Road (MI Road)
Pottery in Jaipur is considered as the most famous thing that you're sure to fall in love with the pottery works. For that, you have to Visit Mirza Ismail Road. This is the most vibrant of the shopping places in Jaipur. You can shop for pottery work and get some beautiful collections for your home. You can also look for brass statues and wooden items.
Gaurav Tower
Gaurav Tower is one of the oldest malls in Jaipur and You can expect a great ambiance and variety at the Gaurav tower. It provides a great parking space that makes the shopping experience hassle-free for you. You'll get a wide range of clothes at inexpensive prices and this is one of the finest shopping places.
Anokhi
For the person who has a craze of beautiful bright prints and handcrafted fabrics, then Anokhi is the best place for you. It holds different chains of stores with its distinguished designs, prints, and range of colors. All these things make it one of the best shopping places in Jaipur.
These are so many beautiful shopping destinations that are unique to Jaipur. These destinations make Jaipur cultural shopping capital. Whenever you plan a holiday in Jaipur, visit these places for shopping in Jaipur. Collect all the memories and go back home with your hands full of shopped items. Jaipur is well connected by road, rail, and air to major destinations in India that's why you can book outstation taxi in Agra for getting a visit of Jaipur.