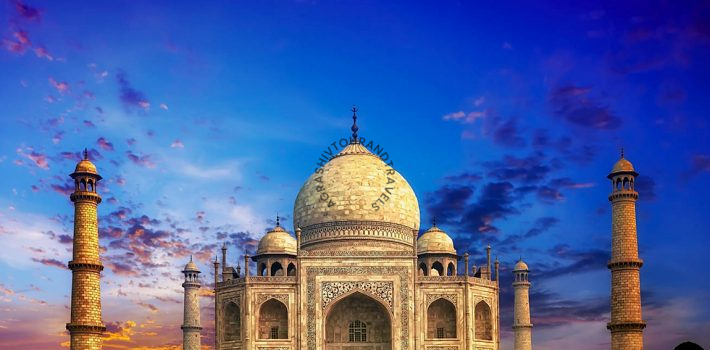 India is full of historical places in which Agra is one of them. Agra has always been a major attraction for the people due to the Taj Mahal. But Now it's time to take a visit of Agra for knowing more about this city . We all know that many rulers and emperors have ruled over Agra, in which the Mughal Empire is one of the most prominent ones. Agra has a collections of many monuments, buildings, and gardens that have stood strong for centuries together. This city has also contains many fine examples of Mughal architecture and structures. Taj Mahal which is one of  the seven wonders is located in Agra. It is built as a testament of undying love to his wife of the Mughal emperor Shah Jahan. There are also many other monuments such as the tomb of Akbar the Great, Itmad-Ud-Daulah, Agra Fort and other similar structures. During your short trip, we will give you a visit of all these places. Therefore travellers get a chance to explore Agra in their short holiday.
Tourist Attractions Of Agra 
Taj Mahal
TajMahal is one of the famous indian monuments and  is a symbol of devotion and dedication of love. It is built by emperor Shah Jahan In the memory of her wife Mumtaz Mahal. Also, it expresses the magnificence of Mughal architecture. This is the most visited place in Agra
Agra Fort
Along with the TajMahal, Agra  Fort is another famous monuments of Agra. It was built by Emperor Akbar in 1571. This is constructed with red sandstone and a mixture of the Islamic and Hindu styles of architecture. Undoubtedly Agra Tourism would be incomplete without visiting Agra Fort. 
ItmaItmad-ud-Daulah's Tomb
Itmad-ud-Daulah's Tomb was built by Noor Jahan in memory of her father Itmad-ud-Daulah. It is constructed with white marble in the typical Islamic style architecture and it  happens to be one of the must visit monuments of Agra. 
Akbar's Tomb
The tomb of the great Mughal emperor Akbar is a must visit place in Agra. It  is a mixture of many architectural styles. Give a visit to these monuments of Agra to make your Agra tour complete. 
Beginning of the tour
Tour begins with your Pick up place from where our representatives will be welcome you to your car which is fully equipped for your comfort. Agra is our main destination for this trip. Our duty is to take you to a good restaurant or sweet shop where you can enjoy traditional Agra style breakfast like Jalebi and Bedai.  You will surely love these dishes. After that we will take you to the most awaited moment when you visit one of the seven wonders of the world, Agra – the Taj Mahal. Tajmahal is the major attraction of the world. After the visit of Taj mahal, we will give you a visit of Mughal architecture and many other construction of that time. After visiting all these world famous attraction,we will take you to Agra Fort which is a world heritage site by UNESCO. Your one day Agra trip will take you closer to the grandeur and culture of Mughal period and ancient India. After exploring all the famous spots we will drop you to your preferable place. We are offering very affordable packages for your one day trip. Book now.
Highlights of One day Tour Of Agra
Visit of Seven Wonders of the world, the Taj Mahal.

A visit of Agra Fort

A small visit to Itmad-Ud-Daulah

Exploring shopping places

Visit to Akbar's Tomb
For Booking :