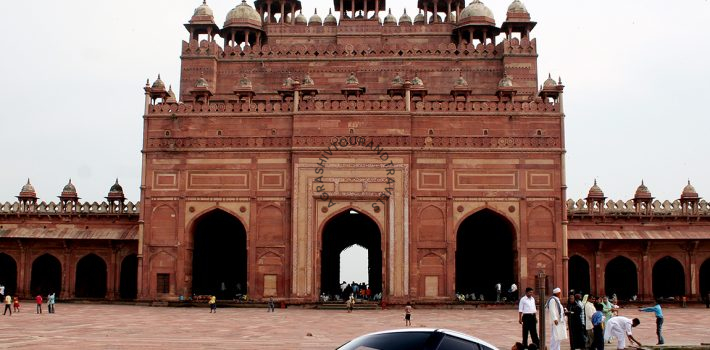 Let's take a break from your everyday routine and plan a short trip. These days everyone is stuck in their life and they do not have time for travelling. Make yourself free from your hectic life and it will make you feel refreshed and your mind gets filled with a new joy.
Are you are planning your next trip? Then you can think of visiting Fatehpur Sikri. It is located at a distance of 40 km from Agra city and  you can visit popular places of Agra as well as the magnificent Fatehpur Sikri. With Our Taxi service you will enjoy your journey in comfortable air-conditioned cars.
Fatehpur was built by Emperor Akbar and a monument build up of red sandstone. Also, it reflects Persian design principles along with Hindu architectural principles. This city is famous for Diwan I Am, Jama Masjid, Buland Darwaza, Panch Mahal, etc. We ensure you that you will really enjoy your time in Fatehpur Sikri and will get to the Mughals and their lifestyle.
Places To visit in Fatehpur Sikri
Diwan-I-Khas
Diwan-I-Khas was the hall of private audience which is one of the most interestingly beautiful buildings. Best thing is to watch here is the central tower which is also known as Lotus Throne. This is the best example of the fine details in stone carving.
Buland Darwaza
 Buland Darwaza means magnificent gate, built in the year 1601 by Akbar to commemorate his victory over Gujarat. It's structure has a total height of 54 m from the ground. The architecture of the gateway is unique which showcases the brilliance of the crafters. It is made out of red sandstone with carvings in marble and granite inlays.
Jodhabai Palace
 This is also known as Mariam uz Zamani Palace and the structure was the living quarters of the Mughal Queen Jodhabai.  This palace has the most important structures in the complex owing to its amazing architecture. Its architecture has a brilliant fusion of the Hindu Rajputana style along with the Islamic Mughal Style.
Tomb Of Sheikh Salim Chisti 
The Tomb of Sheikh Salim Chisti is the most significant structures which was worked between 1580 and 1581. The structure is cut out of white marble and is probably the best case of the creative stone carvings dominance in the medieval period. The design is a combination of Hindu and Mughal styles and encompassed by itemized cut marble screens known as Jaalis from every one of the sides. The catacomb has a place with the Sufi holy person Salim Chishti, who lived in an edge close to the city. The spot at one point of time filled in as a noteworthy focus of the Sufi development in India.
Tour begins with your Pick up place from where our representatives will be welcome you to your car which is fully equipped for your comfort. Fatehpur sikri is our main destination for this trip. Our duty is to take you to a good restaurant or sweet shop where you can enjoy traditional dishes and you will surely love these dishes.