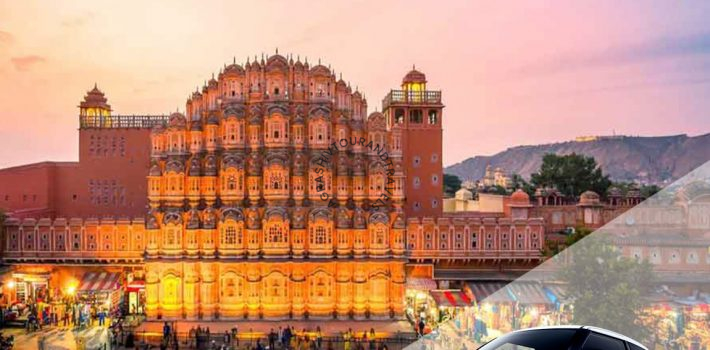 Jaipur is the first planned city of India, renowned globally for its coloured gems. This is the capital city of Rajasthan which combines the allure of its ancient history with all the advantages of a metropolis. Jaipur is the best place with numerous benefits.  During your journey you will experience history and culture, different cuisines, and meet new people which gives you a new energy.
Agra Shiv Tour & Travels is the best way to visit all these places in Jaipur. As we are  is one of the leading tour and travel agencies. You can enjoy your day in Jaipur with Our taxi service and out travel representatives will guide you throughout the journey and you will surely love the experience.
PLACES TO VISIT IN JAIPUR
Jal Palace
 This is one of the most wonderful sights in Jaipur which is known as Lake Palace. Its light, sand coloured stone walls and the deep blue of the water makes for a wonderful contrast. Jal palace float in the centre of Man Sagar Lake, where tourists can enjoy magnificent exterior of Palace.
AMBER PALACE
The palace is located in craggy hills and a beautiful melange of Hindu and Mughal styles. This is entirely constructed with red sandstone and white marble. You will be left spellbound by the magnificence of the palace that utilises carvings, precious stones and mirrors. And you will be most enhanced by the breath-taking vista of the Maota Lake in front. This  palace is nearly seven centuries old and having a legendary past.
CITY PALACE
City palace is located deep within the walled city and  a beautiful fusion of Mughal and Rajput architecture. It includes the Mubarak Mahaland the Maharani's Palace. This palace is adorned with beautiful paintings on the ceiling that are well-maintained.
JANTAR MANTAR
This is a UNESCO World Heritage Siteand considered to be the largest of the five astronomical observatories with contains sixteen geometric devices. These devices are designed to measure time, track celestial bodies and observe the orbits of the planets around the sun. Jantar Mantar also has  Interpretation Centre which helps the tourists to understand the working principles & chronology of the observatory.
HAWA MAHAL
Hawa Mahal is unique five-storey structure which is a blend of Hindu and Islamic architecture, and the exterior, with its small latticed windows which resembles the crown of Lord Krishna. This is built from pink sandstone and you can view its complete magnificence from outside.
JOHRI BAZAAR
This is the most popular market of Jaipur. If you have a wedding coming up in your family then this is the place to shop from. You will get wedding lehengas with tie and dye, hand embroidery, mirror and kundan work to delicate and dazzling pieces of jewellery. 
Beginning of the Journey
Tour begins with your Pick up place from where our representatives will be welcome you to your car which is fully equipped for your comfort. Jaipur is our main destination for this trip. Our duty is to take you to a good restaurant or sweet shop where you can enjoy traditional dishes and you will surely love these dishes. 
We will start with the visit the beautiful Jal Mahal which is situated in the center of Man Sagar Lake. Jal Mahal is a truly mesmerizing place which will get imprinted on your heart. After that we will move towards Amber palace and other historical places during the whole day. We are providing you affordable packages to visit Jaipur. 
Highlights of the Tour :
Visiting Jal Mahal.

Quick tour to Hawa Mahal.

Exploring City Palace.

A stop at Jantar Mantar.

A visit to Amber Fort