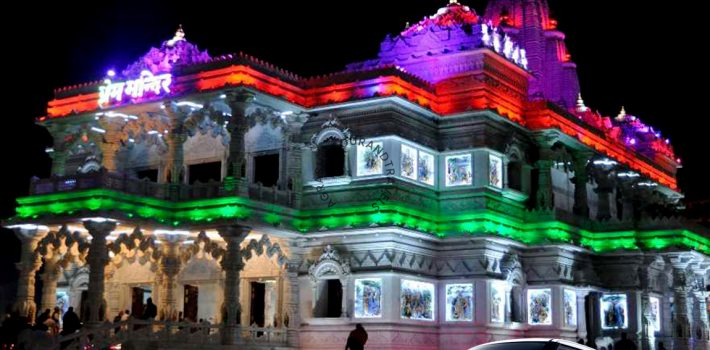 Are you planning a visit to the Mathura-Vrindavan then this visit is one of the most religiously noteworthy places in India which pulls in tourists in the millions consistently. Mathura isone of the most consecrated urban communities in India, is likewise said to be the origin of Lord Krishna on the site of Krishna Janma Bhoomi. The bustling city is dabbed with numerous sanctuaries and altars to different divinities. The city of Vrindavan is similarly enhanced with various sanctuaries and holy places and is known to be where Lord Krishna spent his adolescence. 
Aside from sanctuaries, there are additionally numerous other consecrated destinations that spot the city. Both the urban communities have rich antiquated design and sanctuaries making it an absolute necessity visit place for all. They are likewise viewed as the most hallowed urban communities of India and pull in countless individuals looking for journey.
Famous places to Visit in Vrindavan 
Banke Bihari Mandir
Banke Bihari Mandir is one of the most important temples of Lord Krishna. This is a place you just cannot miss the spirituality in the devotees that throng the temple every day.
Prem Mandir
Shocking in style, this temple was shaped by Jagadguru shri Kripaluji Maharaj in 2001. Consistently, during supplication, a tremendous group accumulates to revere their god. Prem Mandir is a recently built temple and is the most wonderful in the Brij Area. 
Radha Raman Temple
This temple is built  by Gopala Bhatta Gosvami, this sanctuary was set up in 1542. It is said that the divinity here is self showed from one of the shaligram-shilas. As a symbol of Radha is absent here, a crown put close to Lord Krishna portrays her.
Iskcon Temple Vrindavan
Also known as Sri Krishna-Balaram Mandir, this temple was built in 1975 on the instructions of Bhaktivedanta Swami Prabhupada, who is the founder-acharya ISKCON. The core objective of this temple was to increase awareness about the Vedic scriptures and the Bhagavad Gita.
Sri Ranganatha Temple
Vrindavan is popularly known as the "town of temples" and the "Land of God". The Sri Ranganatha Temple is a prominent and famous temple located in this beautiful town. It is also the largest temple in the vicinity. It is dedicated to Lord Vishnu and his consort, Lakshmi. 
Beginning of the Tour
Tour begins with your Pick up place from where our representatives will be welcome you to your car which is fully equipped for your comfort.  Mathura Vrindavan is our main destination for this trip. Our duty is to take you to a good restaurant or sweet shop where you can enjoy traditional dishes and you will surely love these dishes. 
Highlights of Vrindavan
A Visit to Sri Krishna Janma Bhoomi temple, Mathura.

A Visit Iskcon temple, Dwarkadheesh temple.

Visit  of famous temples in Vrindavan.