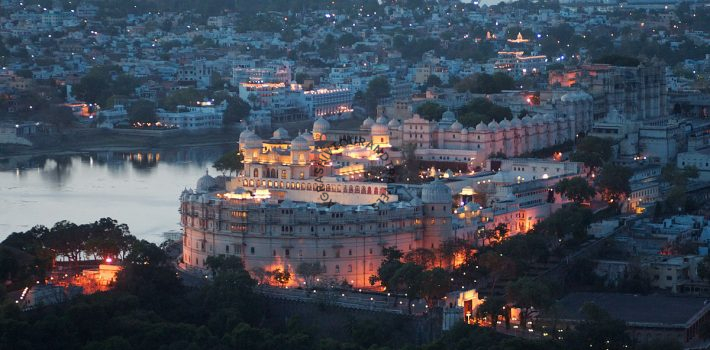 Udaipur is one of the most beautiful and romantic cities located in Rajasthan. The city is also famous as the City of Lakes. This place is known for its magnificent forts, palaces, temples, desert and various scenic hotspots. It is completely soaked into royal grandeur and rich history. It attracts millions of tourists and vacationers from all parts of the world.  You can book outstation taxi online at a very affordable rate.
The city is famous for its unique culture and diversity. There are few important attraction such as City Palace, Lake Palace, Pichola Lake, Jagdish Temple, Jag Mandir Palace, Monsoon Palace, Fateh Prakash Palace, Shiv Niwas Palace, Saheliyon-Ki-Bari, Fateh Sagar Lake, Udai Sagar Lake, Eklingji Temple.
Let's have a look at the best part of Udaipur:-
The Lake Palace is one of the finest examples of architectural and cultural marvel located in the middle of Pichola Lake.
The grand City Palace enhances the beauty of this magnificent city is located on the banks of the lake along with the Monsoon Palace on the hill above.
Udaipur is famous for being the centre of arts, crafts and paintings.
While you can also enjoy Shilpgram Fair and Mewar festival as these fairs are immensely popular among tourists.
There is a sanctuary named "Kumbhalgarh Sanctuary" is a total delight for wildlife enthusiasts. the sanctuary is located in the scenic Aravalli hills and spread over an area of 578 sq Km. It is home to a variety of animals and birds.
Udaipur is a city with interesting stories, warm looking locals, fairs, festivals and local cuisine. There are such a large number of amazing spots to visit in Udaipur and to ensure that you do cover every one of these spots without passing up anything, you should decide on standard convenience in Udaipur, so you can design out your Udaipur visits with no issues.
As a royal destination, this is quite popular among tourists. You should book your outstation taxi online in advance. Udaipur is a perfect place to make all your worries vanished and strain after a hard time at work. This is a visual treat to millions of people who love to observe the loftiness of royals. It is a city with fortresses, royal residences, lakes, intriguing stories, benevolent local people and neighbourhood food you will always remember in a lifetime. In the event that you intend to remain in Udaipur, there are a large group of Udaipur Hotels that are accessible in very good quality. You can book outstation taxi online.